Underwater Tour Awards 2021
Entries are now open!

 
Competition prizes valued at over AUD $30,000
Fabulous Partner products, adventures and good old-fashioned cash to be won.

The prestigious Grand Guru prize is valued at an incredible

AUD $10,000

 
Designed to encourage and inspire passion for photography, exploration and discovery from behind the lens, the competition also helps raise awareness of the world's incredible, fragile marine and aquatic inhabitants and their environments.
Since 2018, The Underwater Tour has presented and promoted a like-minded group of ethical internationally acclaimed professional underwater photographers traveling together, sharing their incredible images live on theatre stages around the country in a week-long annual touring speaker series.
Many of our audiences enjoy underwater photography themselves, so we launched our supporting international underwater photography competition in 2020, The Underwater Tour Awards.  We were delighted with the high calibre of submissions received in our first year.  The finalists' gallery took us on a remarkable visual tour, showcasing the fine work of competing underwater wildlife photographers from 13 different countries.
Two new awards.  A total of nine categories in 2021.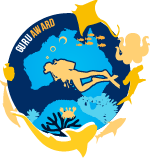 Guru Awards
Open to all photographers, The Guru Awards celebrate photography from above and below the surface of our marine and freshwater environments. The awards feature 5 Categories, a People's Choice Award and the coveted Guru Grand Prize.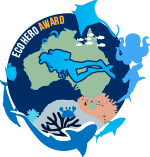 Eco Hero
Nominate an individual you believe is going above and beyond to consistently encourage positive ecological change within the community. NEW AWARD!
Our nine 2021 winners will be announced during a special segment of the Underwater Tour Show on 23 May.