Tim Hochgrebe
Byron Bay, Australia
While completing his Biochemistry PhD, Tim entered the 'dive industry' as President of Sydney University Underwater Club and with organising plenty of trips, Tim's love of dive travel began. 
The warmer waters of Northern NSW soon enticed Tim and his wife Wandy. They opened Planula Divers Retreat in Bryon Bay (God's country) in 2000 and welcome visitors from all over the world still today.
 Tim worked as professional underwater videographer from 2000 to 2007 and inspired by Byron Bay's  rich and beautiful underwater world, Tim has filmed and produced two underwater themed DVDs (Marine Passions & Byron Underwater) as Planula Video Productions. The videos continue to be distributed internationally.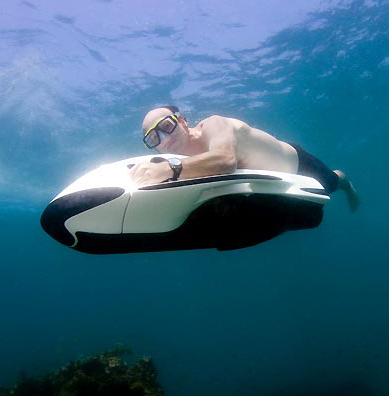 In 2002 Tim and Wandy launched underwater.com.au with two goals in mind:  to promote the amazing variety of diving in Australia, Oceania and the Asia Pacific to the world,  and to offer a fantastic shopfront for niche diving and products of the underwater world in general.
Tim and Wandy founded the Underwater Festival in 2007, first as a local Byron Bay festival, but it soon outgrew it's home, and moved off shore in 2011 to magical Christmas Island. The next step was an Australasia-wide simultaneous photo and video shootout competition like no other.  A regional snapshot of the beauty and issues and the largest underwater shootout competition in the world, and growing each year and evolving into the Underwater Project in 2015, the world's first perpetual underwater shootout. with 1000s of entries and distributed over 1/2 million dollars in prizes.
Tim has always supported the industry's efforts, was the co-organiser of ODEX (Oceania Dive Expo) in Brisbane in 2011 and underwater.com.au is the official on-line media for AIDE (Australia International Dive Expo) from 2014 – to present.
Underwater Australasia is the exclusive Distributor for Fantasea Line – underwater housings and photographic accessories for Sea-Doo Seascooters and now Yamaha Seascooters.
Underwater Australasia remains independent and unbiased by any gear manufacturer or certification organisation. It is purely a huge information resource, underwater shop and community meeting place for users as well as members of the industry.
The Underwater Tour is simply the next logical milestone …